343 West 16th Street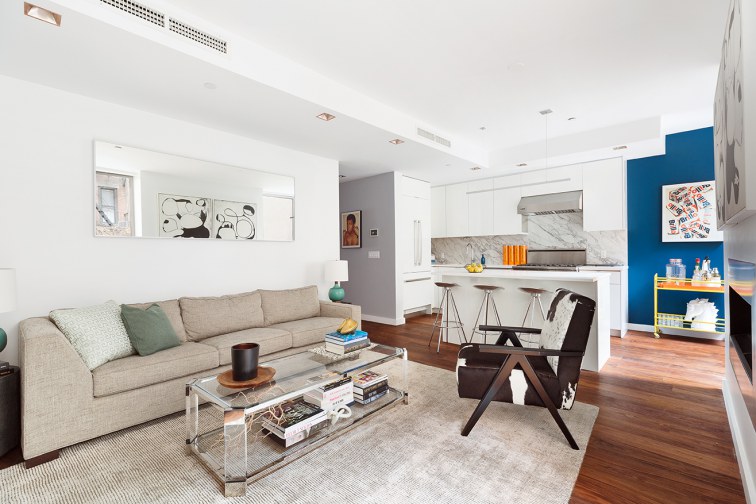 About this project
The program criteria for the design of the building was to make a building with a predominantly glass facade, rental units designed as high-end condominium units and a building that was environmentally conscious.
The building features an undulating glass façade with floor to ceiling windows which curve differently at each floor.  The façade steps in and out at each floor creating staggered balconies which are incorporated into the overall design.  The building has geothermal heating and cooling.  The first floor is duplexed with the cellar and has exclusive use of the sunken rear yard garden at the cellar level.
Our client wanted a "modern statement" that he could use as an icon to represent his developing portfolio.  Located near the Meat Packing District of Manhattan, the surrounding neighborhood has become a haven for downtown nightlife and high-fashion restaurants and boutiques.  Therefore, we envisioned a Modern vocabulary using a sleek expanse of glass and metal while also keeping the front and rear facades as open as possible.
The building assembly is a simple concrete flat-slab structure with an insulated glass façade which folds back and forth upon itself differently at each level.  The movement of the glass culminates in "dancing" balconies used to express the individuality of each apartment and punctuate the changing streetscape.  These themes are all enveloped in a minimal stone "frame" that encompasses and anchors the movement of the façade.
We also encouraged our client to apply for State tax incentives for sustainable environmental design.  Although this project is not LEEDS certified, it does take advantage of several renewable resources and low-impact environmental strategies, and tax breaks are received through the NYSERDA program.
The building incorporates sustainable design at many levels.  The glass for the entire façade is Low-E insulated, and the building's heating and cooling is accomplished through a geothermal ground-source heat-pump system.  In addition, the balconies provide necessary shade to help conserve energy for heating and cooling.  Variable speed pump controls drive the geothermal system efficiently, and energy-conserving bi-level lighting illuminates the common areas.  At the material level, fine ceramic finishes along with a few readily available natural stones were used in the bathrooms and kitchens.
Skills:
New Construction, Residential